puppitypup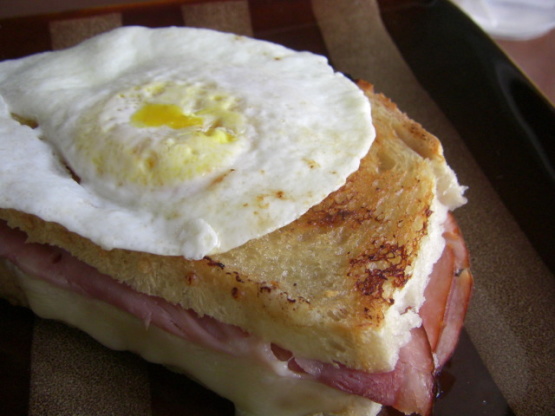 Another version of a croque monsieur. Here in Belgium you can eat it in almost every restaurant that serves snacks.

Made for the "What's on the Menu" tag game - Breakfast sammies are like a "major food group" around our house & this is our new favorite of the genre. I "pre-warmed" the ham in a small amount of butter to give it a caramelized flavor, used Gouda cheese & then assembled the sammie to grill in the same pan. To ensure a 1-pan effort, I also cooked our basted eggs in the same pan. Served w/fresh fruit plus our morning coffee got us close to the luxury of Eggs Benedict .. w/o the extra calories & fat content. Thx for sharing this recipe w/us. YUM!
Spread butter on the two sides of the slices of bread.
Put the slice of ham and cheese between the bread, making a sandwich.
You can either bake or grill the sandwich.
Top the sandwich with a fried egg and enjoy!