Croissant Breakfast Casserole
iamafoodblog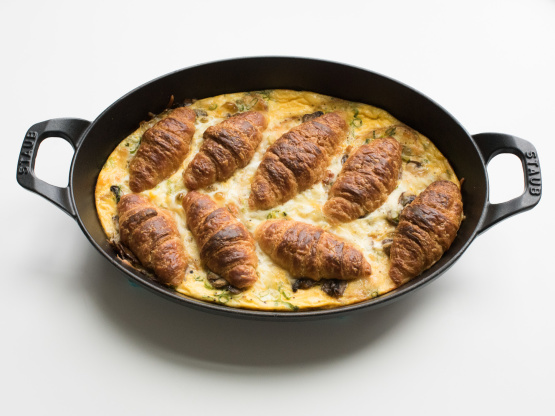 Adapted many years ago from a recipe in the Calgary Herald newspaper. It is a no fail recipe! Easy for the beginner cook and looks very elegant. Can be doubled and tripled with no problem! Cook time does not take into consideration overnight sitting time, so plan ahead!!

This is fabulous! I served it at my Christmas breakfast and everyone loved it. I doubled the recipe, tripled the eggs (12), and added ham. Also used cheddar, mozzarella cheese and parmesan cheese. Baked about an hour. It was excellent. Definitely will make this again.
Split croissants in half and place bottoms cut side up in one layer in a rectangular casserole.
Melt butter in a fry pan.
Saute mushrooms and green onion until tender and liquid has evaporated.
Set aside.
Beat together eggs and milk.
Pour half over croissants, layer mushroom mixture and cheeses on top, then pour over remaining liquid.
Position croissant tops over the bottoms, cut side down.
Let stand over night in the refrigerator.
Bake at 350*F for 25 to 30 minutes or until set.
Cover with foil if browns too quickly.