Croissant Bread & Butter Pudding
Boomette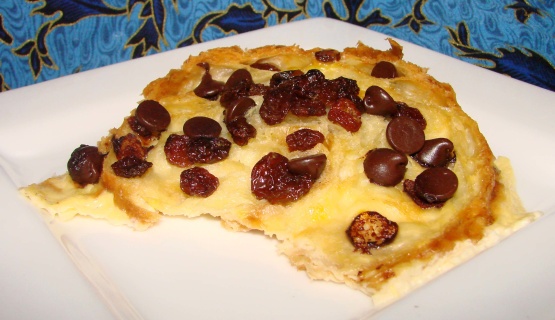 Once you've soaked the raisins in Frangelico for an hour, this scrumptious dessert is really quick to prepare. I found this recipe in the July 2002 issue of the Australian 'Family Circle'. For added decadence, use chocolate croissants, or if you cannot get chocolate croissants (Baker's Delight sell them) add some chocolate chips! The soaking time has not been included in the preparation time below.
I didn't want it to be too sweet so I omitted the sugar. It was very good that way. We ate it as breakfast this morning (it was made yesterday evening). Maybe more Frangelico would be better. I couldn't detect the taste of it. I used plain croissant and chocolate chips. I used 15% thick cream. Thanks Bluemoon. Made for Please Review My Recipe.
Place the raisins in a glass bowl and pour the Frangelico over them and set aside for 1 hour.
Preheat the oven to 180°C.
Cut the croissants almost in half horizontally, open out and place each croissant in an individual 11/4 cup or 310ml ovenproof dish; drain the raisins, reserving the Frangelico that hasn't soaked into the raisins.
Scatter the raisins on and around the croissants. (If adding chocolate chips, add them now).
Combine the milk, cream, sugar and eggs and the reserved Frangelico in a large jug.
Slowly pour the milk mixture over the croissants, allowing it to soak inches.
Place the dishes on a baking tray and bake the croissant puddings for 35 minutes, or until puffed and golden.