Crock Pot Yellow Pea Soup With Chorizo
Derf2440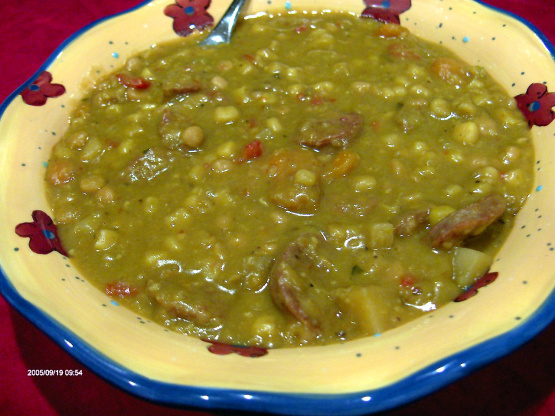 This is a different soup rather than the usual green pea soup that we are all used to. It has a southwest zing to it and it is very hearty. The chorizo sausage gives the soup a smokey flavor and the corn and peppers give it a nice texture.
453.59

g package dried split yellow peas

946.36

ml water

236.59

ml of sliced carrot (about 1/2 inch)

283.49

g chicken broth

1.23

ml pepper

1.23

ml any seasoning salt

59.14

ml sliced green onion

1

potato, peeled and diced

118.29

ml chopped red pepper

4.92

ml cajun seasoning

340.19

g chorizo sausages (sliced into 1/4 slices)
Combine and stir everything in a 4 quart crock pot and blend/stir.
Cover and place on low and cook for about 8-10 hours.