Crock Pot White Chicken Chili
karen1967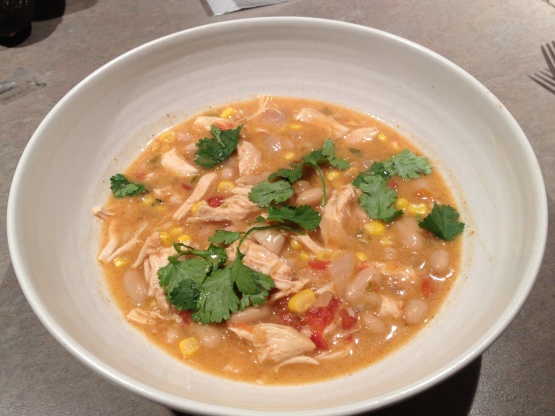 This white chicken chili recipe is adapted from a Betty Crocker slow cooker recipes cookbook. I often use frozen chicken breasts, and it can also be prepared conventionally on the stove top. Great comfort food!

Excellent!! I read the other reviews and changed a few things: chopped up half of an onion and layered it under the chicken when I placed it in the bottom of the crock pot, added a can of yellow corn, a can of diced tomatoes, and chopped up half of a jalapeno pepper to add some kick (I'm saving the other half of the pepper to slice as a garnish). Other than that I did everything the same. I put everything in the crock pot last night and just shredded the chicken this morning. It is so SO good, we are having a hard time waiting to get into it before the football game today! I will serve the sour cream separately. Right now the soup tastes just perfect and I don't want to change anything!
Place chicken in a 4 quart slow cooker.
Top with beans and corn.
In a medium bowl, combine taco seasoning, chiles, condensed soup, and chicken broth. Pour over top of ingredients in the crock pot.
Cover and cook on low for 8 to 10 hours.
Before serving, stir gently to break up chicken, then stir in the sour cream.
Serve topped with green onions and jack cheese, if desired.