Crock Pot White Beans, Butternut Squash, Kale, and Olive Stew
Diann F.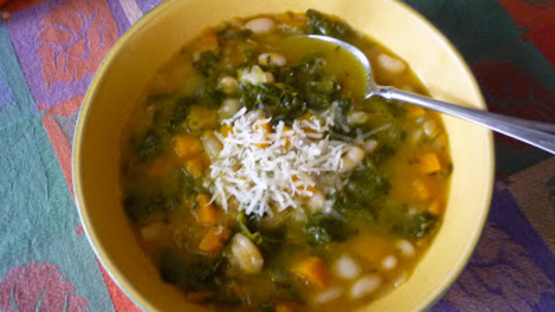 This is very easy and tasty. Also it's vegetarian.

Top Review by ellie_
This recipe didn't work out very well for us for a couple of reasons. There are too many ingredients to fit in my crockpot so I eliminated one can of beans (I probably should have cut out two more cans or used less vegetables to make everything fit in a bit better), there is not enough liquid to make it stew/soup-like and I also think this needs a bit more spice to give the vegetables a bit more of a kick. Sorry I know people don't like low ratings, but I really can't rate this any higher -- my dh said that this was the worst meal I've made in a decade.
Combine all ingredients except the cheese in the crock pot. Cook on low for 8 to 10 hours or on high for 5 to 6 hours.
Transfer to large shallow serving bowl and sprinkle generously with grated cheese, if desired.