Lisa R.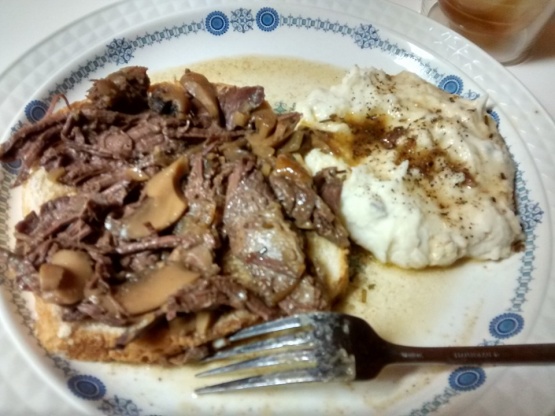 Without the time to cook one day, I just threw this in the crock pot--wow it was wonderful!

Amazing but the original cook time is way to much. Started mine at noon at it was done 3. The meat was like butter, just melted in your mouth and no game taste. My wife even tasted it and she hates venison and she loved it. I browned it in pan then put it in crock pot at 275 for 3 hrs. If I left it in as long as she suggested the meat would have been the size of a nickle..
Salt and pepper roast on all sides and dredge in flour.
In heavy skillet, melt margarine and brown meat on all sides; remove to crock pot.
Sauté onions and mushrooms in skillet until mushrooms are a little brown.
Put about 1 cup water in skillet to deglaze. Pour all skillet ingredients into crock pot; add remaining ingredients to crock pot and stir well to mix.
Be sure there is just enough water to cover roast.
Turn on high for 6 hours then low for 2 hours or until ready to serve.
Great on mashed potatoes!