EppiRN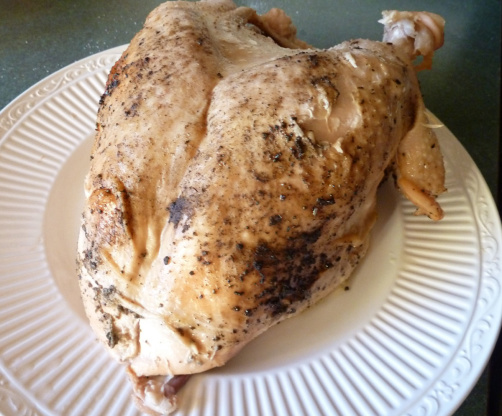 This is a great recipe that I use when I need a lot of moist flavorful cooked chicken/turkey. It's great for salads, enchiladas etc. The breast is even moist enough to slice up and serve for dinner or put on sandwiches.

Delicious. I've made this several times to rave reviews. I rub the turkey with EVOO and a rosemary sprig or two and about 1/2 to 3/4 cup of liquid ( mixture of broth, white wine, lemon juice). Moist and wonderful for the first meal and the meals to come.
Rinse the turkey and pat it dry with paper towels.
Rub turkey all over with the oil.
Carefully pull back skin over breast and rub with seasonings.
Place breast, meaty side up into a 5 quart slow cooker.
Peel the onion, cut it into quarters and place around the edges of the pot.
Peel the garlic cloves and place around the sides of the cooker (maybe rub some minced under the skin).
Cook for 9 hours if frozen or 7 ½ hours if not frozen on low or to 170 degree internal temperature.
Let bird rest 10 minutes before carving.
Discard vegetables.