Crock Pot Thai Chicken Thighs
Parsley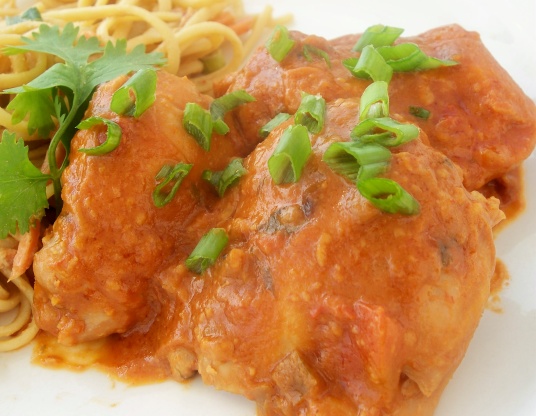 Throw six ingredients into the crock pot and 6 hours later enjoy a delicious treat!

This is a VERY delicious recipe. I made some minor tweaks.. In addition to the cilantro salsa, I added a large handful of fresh cilantro as well as a little extra lime juice. I also added a can of light coconut milk and a teaspoon or so of Sriracha hot chili sauce for more heat. I also used natural creamy peanut butter, which I would recommend over Jiff or Skippy.. the more natural peanut flavors complement the dish better than the added ingredients in other brands. Done in 6 hours on low in the crock pot. The dish is more Indian than Thai - great over jasmine rice served with Naan bread. The best part? The leftovers are even better.. all of the flavors mature and come together so nicely after a day or two in the fridge. Definitely a keeper!!
Put all ingredients in crock pot on low for 6-8 hours.
Garnish with cilantro, scallions, and peanuts.
Serve with jasmine rice made with half coconut milk and half water (1 cup raw rice, 1 cup water, 1 cup coconut milk).