Stacky5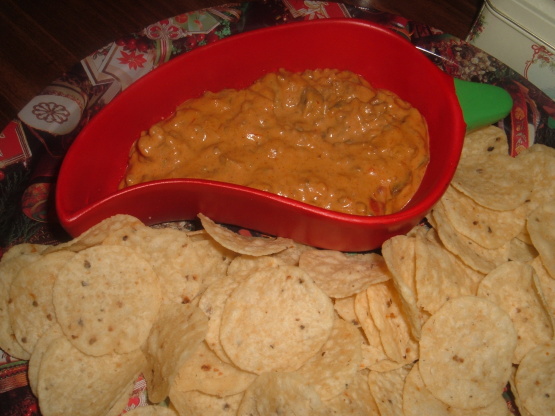 This is very simple to make, but very flavorful with a Tex-Mex flair. Great to take to potlucks along with a bag of nacho cheese tortilla chips...

This was such an awesome dip we really enjoyed this flavorful dip and it was super easy to make. Made as directed didnt change a thing. Served with tostitos scoops.This recipe makes a lot,and I will definately serve this to guests in the future-its that good.:)thnks!PeggyLynn
1

teaspoon vegetable oil

1

lb ground chuck

1

(1 1/4 ounce) package taco seasoning mix (I use Old El paso)

1

(10 ounce) jarmedium salsa (I use Chi-Chi's brand)

1

lb Velveeta cheese, cubed

1

tablespoon sour cream
1⁄4 cup red onion, chopped

1

garlic clove, minced
In skillet, brown ground chuck in oil and chop finely with a spatula. Add chopped onion and garlic and saute' just long enough to sweat but not brown. Drain.
Put meat mixture in crock pot and add all other ingredients. Stir and cover. Heat on "low" for 2-3 hours, stirring after the first hour.
Garnish with finely chopped green onion stems, if desired.