Crock Pot Stuffed Bell Peppers
Pamela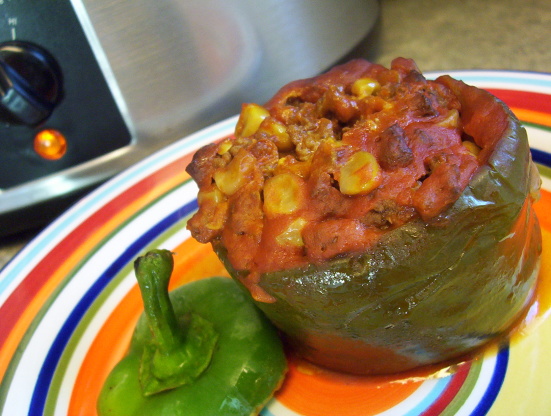 These are simple and taste great with a side of mashed potatoes and gravy. Got the recipe off the Internet and revised it a bit to fit my tastes. We make this "comfort food" quite a lot during the colder months.

This was a great recipe for the Crock Pot. Good ease it the prep and a very nice flavor. So nice to come home to the aroma of Stuffed Peppers with no fuss! Only suggestion to maybe cut back on the cooking time by about 1 hour, Of course every Crock Pot is different in cooking time so adjust yours accordingly! Thanks for submitting this wonderful recipe and I will make it again!!!
Remove the tops of peppers and remove seeds and core.
Arrange in crock pot so standing upright.
In mixing bowl, combine sirloin, onion, salt, corn, 1 can of soup.
Spoon mixture into peppers, pressing down to fill completely.
May overload a bit at the tops.
Combine the other can of soup with Worcestershire and mustard.
Spoon mixture over the peppers.
Add pepper to taste.
Cover and cook on low for 8-9 hours.