Crock Pot Split Pea and Ham Soup
Marlene.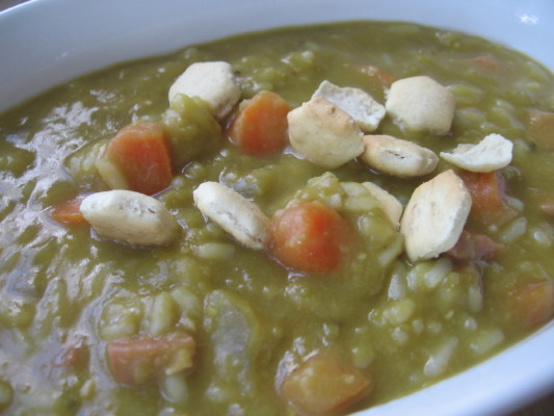 This is a great way to make split pea soup - just let it cook itself all day long. I like the addition of rice in this recipe.
This is definitely a bit different than my normal split pea soup! I guess that's why we try new recipes , right? For it to be different! :) I wasn't sure about the addition of the rice , but for me , it grows on you as you eat it. I actually really enjoyed it!! For some reason I could REALLY taste the Thyme , so I would cut back a bit on that , I don't know why it was such a strong flavor , 1/2 tsp isn't all that much when you consider the other amounts of ingredients. Anyway , it goes together in a snap , and I love that the crock pot does all the work! :lol: Thank you for posting Chris!!
In a 3 1/2-5 quart crock pot, combine ham, peas, onion, celery, carrot, parsley, thyme and pepper. Pour chicken broth and water over all.
Cover; cook on low setting for 10 to 12 hours or on high setting for 4 to 5 hours. Stir in rice. Cover; let stand 5 minutes or till rice is tender.