Crock Pot Spicy Boneless BBQ Chicken - Easy
RedShirt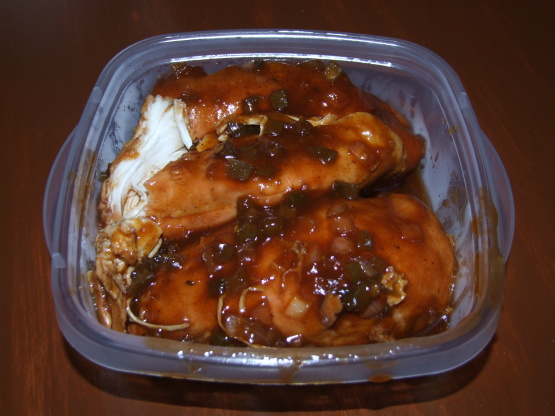 I was inspired by Easy Crock Pot BBQ Chicken (Low Fat) and create my own. I am a novice cook and this has to be the easiest recipe I have tried in my crock pot. I would have liked to try a better BBQ Sauce but Winn-Dixie had a limited selection so I used there own which turned out pretty good. This is a great recipe for people who work or have little time to fix a meal trust me :-)

This was easy and delish. I used sweet baby rays, 1 onion, 1 green pepper, 2 jalepenos, seasoning the chicken first with my own spice mix (8oz seems too high, doesn't it?). Oh, and no liquid smoke as I can't stand the flavor. Thanks for posting.
3 1⁄2 lbs boneless skinless chicken breasts (5 pack boneless or skinless Winn-Dixie)

2

(28 ounce) bottles barbecue sauce (Hickory, Winn-Dixie, or any brand of your choosing)

6

ounces red onions (diced Winn-Dixie)

6

ounces green peppers (diced Winn-Dixie)

2

tablespoons jalapenos (diced Jar or Fresh)

2

tablespoons hot sauce (Cajun chef green chili sauce)

1

tablespoon liquid smoke

8

ounces seasoning (Kevin's bayou blend dry seasoning)
Unwrap and put all 5 pieces of chicken breasts on the bottom of the crock pot.
Take the bottle of Big Kevin's Seasoning and cover the top of each chicken breast.
Take pack of red onions and green peppers and dump on top of chicken.
Take liquid smoke, hot sauce, and jalapeño and dump on top of chicken.
Take barbecue sauce and make sure you put enough in to cover all the chicken breasts with (you will not need all of the 2nd bottle.
Set crock pot on Low for 7 to 8 hours. Once you get to the 7th hour you can check the chicken which should be tearing off when you pick it up. You can make kick ass shredded chicken sandwiches or pick it out for a really good meal.
As a bonus you should have enough sauce left to put in a plastic container and enjoy later.