Crock Pot Spaghetti Sauce
CandyTX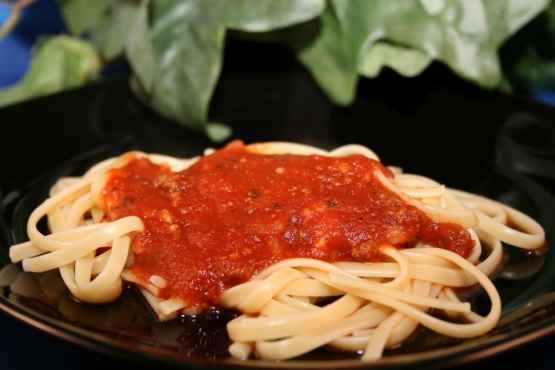 This is such an easy sauce to throw in the pot in the morning, then forget about it until you're ready for dinner! You may also add any vegetables you like or 1-2 lbs. browned meat.

Top Review by Geema
All the ingredients for this delicious sauce can be pulled out of the pantry to make an easy and inexpensive meal. I made the recipe exactly as written and wish I had put in a few more vegetables. I served it with pasta and some breaded fried eggplant, which made a really nice dinner. I never have used chili powder in spaghetti sauce, and it tasted just fine. I did add some red pepper flakes on top of the pasta, and will add them to the sauce next time. Junebug, you have a really good idea here and we enjoyed the sauce very much.
Place all ingredients, except parmesan cheese, in a crock pot.
Mix thoroughly.
Turn crock pot on low for 8 hours, more or less, until you are ready to eat.
Stir in the parmesan cheese while pasta is boiling.
Enjoy!