Crock Pot Spaghetti and Meatballs
megs_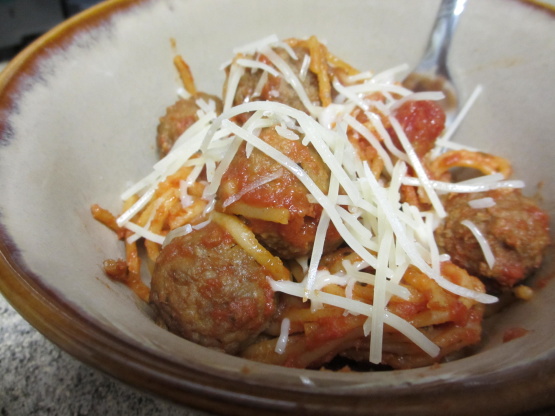 This recipe is special more for its cooking method than its ingredients. You can modify it to suit your taste, but I think you'll agree...making spaghetti and meatballs can't get any easier than this !

Sorry, the pasta came out like glue and a waste to good meatballs.
Break spaghetti in half and put in crock pot.
Add remaining ingredients and stir.
Cover, cook on Low 4-6 hours, or on High 2 hours. Stir once at "halftime".
Note -- I use homemade meatballs, which I always have on hand, but I use a purchased sauce with garlic that my children love. The can size was 681 ml. Also, I never measure the pasta, I just use two handfuls. But the Recipezaar editors could not computer such a measurement.