truebrit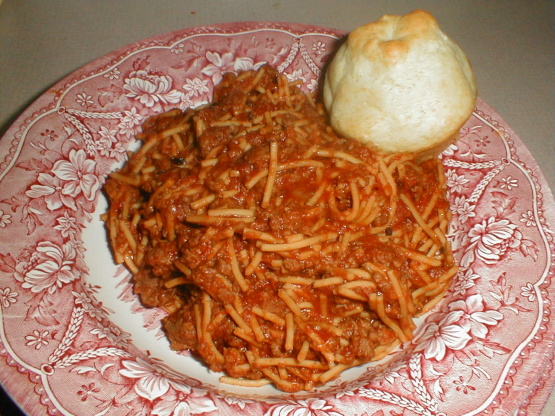 Great super easy recipe! Very moist, tasty and usually gets many raves. I fixed this and brought it to work and got requests from everyone for the recipe! Very easy to double.

This was disgusting-not the flavor of the sauce, I did my own seasoning, but the noodles were like eating glue. I added water repeatedly, trying to thin it out but it was the noodles themselves that I couldnt stand. They were thick (and I used angel hair pasta) and just...gross. I had three bites and couldnt even bring myself to eat it.
Brown beef and place in crockpot.
Add all remaining ingredients except spaghetti and stir well.
Cover and cook on low heat for 6-8 hours.
Turn to high the last hour and stir in spaghetti.