CandyTX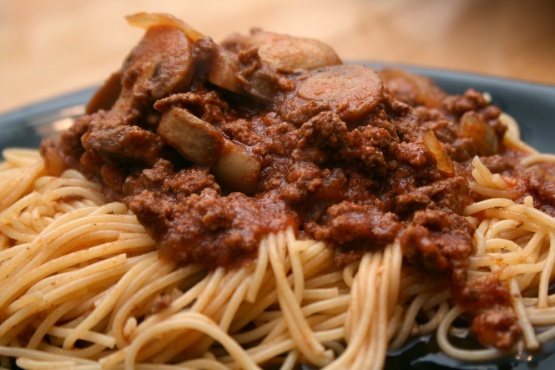 This recipe came from a girlfriend of mine. We were discussing how hard it is to cook yummy meals with small children at our feet in the kitchen. This is one you can toss together in the morning/afternoon and enjoy with a loaf of garlic bread 6-8 hours later. We all love it.

Gosh, not sure if I should review this since I had to make some substitutions. It's a very cold, windy day here and I wasn't about to go back out to the grocery store. I used a 26 (?) oz. jar of sauce, added a bit of olive oil, parmesan cheese, fennel seed and some Italian seasoning. No tomato sauce or tomato juice - so I just added about a cup of water to the sauce jar and swished it around good and dumped it in. Added ground beef that was browned with minced onion and jarred garlic. Threw it all in, mixed in the broken spaghetti. Set the CP on high (as I was going to be home while it was cooking) stirred it good half way through and called it down just short of three hours. We all liked it. I do legal transcription work from home and weekend afternoons are serious typing time - I loved being able to type while it was cooking and my family was still happy with a family favorite.
Brown ground beef in skillet and place in crock pot.
Add remaining ingredients except spaghetti.
Stir well.
Cover and cook on low for 6-8 hours or on high for 3-4 hours.
Turn to high for the last hour and add spaghetti at that time.