Crock Pot Smothered Mushrooms
lazyme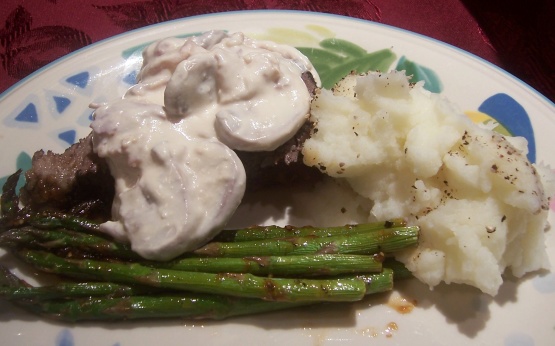 Haven't seen this on the zaar yet, I found it on the web years ago when I was on a low-carb diet. I've tweaked it here and there and changed it along the years. This is a frequent request for pitch-ins and get togethers!

Top Review by lazyme
This was a nice mushroom dish that I served with/over roast beef. It was very rich and tasty. I assumed by the total time listed, that these should cook in the crockpot for about 4 hours, which I felt was a little too long because they got a little too thick for us. Next time, I would cook them a little less time. Thanks angie pangie for a good mushroom dish.
Add Worcestershire sauce and butter to bacon fat and sauté mushrooms until tender, but not browned or crisp.
In crock pot, mix together sour cream and cream cheese.
Toss in mushrooms, bacon and olives (drain the bacon fat first).
Keep hot in crock pot, do not boil.