Crock Pot " Smashed" Peaches
Pamela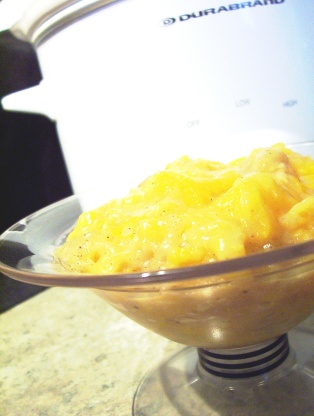 Easy and tasty dessert that doesn't heat up the kitchen, but smells heavenly! Very cobbler-like.

This is an absolutely yummy recipe. It was the first time I'd made a dessert in my crockpot and my family thoroughly loved it. In fact my teenage son was raving for more. I did adapt it slightly in that we don't have a great selection of peaches so I used canned peaches. I drained them and then mashed them up. And of course I had to double the recipe as I have a large family. And with growing teenage boys that like to eat.. :) Anyway thanks Bekah826 for the recipe.. missviolinist
Spray crock pot with non-stick cooking spray.
Combine sugars and Bisquick in a bowl.
Add eggs and vanilla.
Add margarine and milk.
Add peaches and cinnamon.
Pour into crock pot.
Cook on low for 6 to 8 hours.
ENJOY!