Crock Pot Shredded Balsamic Chicken With Herb Cabbage Pasta
kcwillis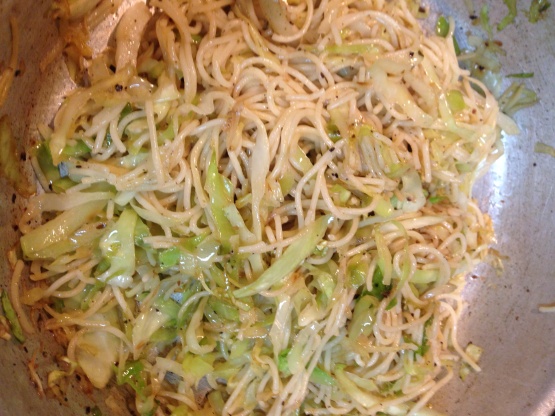 An effortless and tangy recipe.

I am amazed at how flavorful and tangy this came out. I doubled the mushrooms, added 1/4 C chopped L, (canned), chilies, (will add 1/2 C next time), substituted almost 1/2 can of ginger ale for cola, 1/2 C white sugar (no cola or brown sugar on hand). Wonderful flavor! Had no herbed butter, so added oregano, garlic powder, tad of garlic salt & pepper in pan and melted with butter. 1/4 of a cabbage wasn't nearly enough for a serving of pasta for 4. I added more and would actually suggest 1/4 of a small cabbage per serving of spaghetti, so, a full, small head to serve 4-6 people. (If you like cabbage, this is the way to go). Next day I took enough shredded chicken and heated in pan with BBQ sauce and served on a lightly buttered, lightly toasted bun...YUM! So versitile & so easy!! Adding as a regular dish! TY for this recipe!
Place chicken, mushrooms, brown sugar, garlic, rosemary, sage, pepper, soy sauce, cola, and vinegar into crockpot. Cover and cook on low for at least 5 hours.
About one-half hour prior to serving, cook pasta as directed. Meanwhile separate chicken meat with a wooden spoon in the crockpot.
Once pasta is ready, strain and set to one side. In a skillet, on medium heat, quickly sauté cabbage in herb butter. Stir in pasta and turn off heat.
Place in serving bowls, top with shredded chicken, and sprinkle with Parmesan and parsley.