Crock Pot Scalloped Potatoes (With Optional Ham)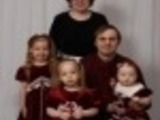 This is a great, easy recipe. I got it from a Relief Society Enrichment Night lesson, and have not found its equal anywhere. I have no idea where the sister who contributed the recipe got it, but it sure is great! If you add the ham, it can even be a main dish for lunch or brunch. And while no one can say it's diet food, it's comforting, filling, and a great time saver for big holiday meals.
Directions
Layer potatoes, onion, 1 teaspoons salt, and ham (if used) into crock pot.
Make a roux with butter, flour, and 1 teaspoons salt.
Slowly add milk, then cheese. Cook over low heat until thickened.
Pour over potato/ham mixture in crock pot, and gently stir.
Cover and cook on"Low" 6 to 7 hours or"High" 3 to 4 hours.
Reviews
Most Helpful
I was so happy to find this recipe and even happier when it worked! This is very similar to my recipe for scalloped potatoes in the oven and just as good. I omitted the onions, but otherwise followed the directions as stated. I sliced my potatoes (russets) and cooked on low for 5 hours and then turned on to high for one hour. Very good.
We got everything ready and in the crock pot the night before. The next morning all we had to do was cook it. They turned out great. We left out the optional ham because we have some vegetarians in our family. But I did set the bottle of bacos on the table in case anyone wanted to sprinkle them on top. These were enjoyed by the whole family. Thanks!
This was easy to put together and smelled and tasted good. I adjusted for 12 servings, except kept the milk at a total of 2 cups due to other comments on this recipe, and that seemed to work out fine. I also stirred the potatoes a few times during the cooking time (every couple of hours or so). However, for some reason it looked dull/brown-ish. Some of my potatoes turned reddish brown before I managed to get the cheese sauce made and poured over them. I'm not sure if there is something I could have done to prevent that? So the appearance wasn't great. But yummy and easy. I think it was enjoyed by all.