Crock Pot Savory Bean and Spinach Soup
jenne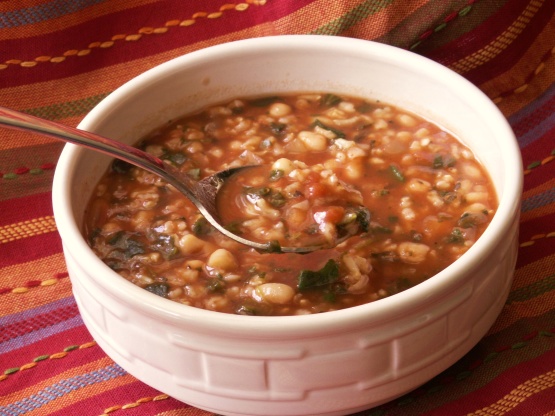 This recipe is from Fitness magazine.

Delicious soup! This also reminded me that I love my crock-pot - it makes me SO happy to come home and NOT have to cook sometimes! Very easy to put together, great flavor, smelled awesome, and cheap too! I used a package of frozen chopped spinach that I thawed out. My BF liked it, but when I mentioned that it would be good with some italian sausage thrown in, he LOVED that idea. May try that next time.
In a 3 1/2- or 4-quart slow cooker, combine vegetable broth, tomato puree, beans, rice, onion, basil, oregano, salt, pepper and garlic.
Cover; cook on low heat setting 5-7 hours or on high heat setting 2 1/2 to 3 1/2 hours.
Just before serving, stir in spinach or kale and sprinkle with Asiago cheese.