Crock Pot Rotisserie Chicken
NELady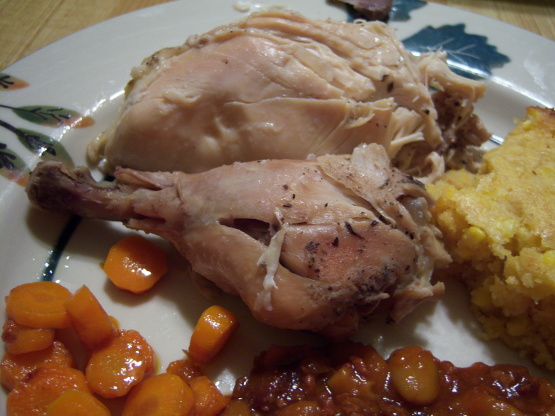 The taste of roasted or rotisserie chicken, but so easy in the crock pot! My mother in law made this for a family gathering once. I didn't know you could do it like this! UPDATED description: I made this again tonight, and forgot how moist it is! Because there's nowhere for the juices to go, it does wind up being a little "soupy" - it's not a crispy rotisserie chicken in that regard. The chicken just falls off the bones and has such great flavor! (in fact, in the photo I posted, I had to push all the chicken pieces back together to make it look like a whole chicken!)

Top Review by NELady
It can't be more simple than this! And the chicken turns out SOOO flavorful and tender! I cooked a little longer than suggested (hubby got called back to work), and the chicken was falling off the bone by the time we ate dinner - but let me tell you, it was delicious! Plan to use the leftovers tomorrow for recipe #369018 - I HIGHLY RECOMMEND this recipe to anyone who wants to have tasty chicken without any fuss! Thanks for posting! Made for 1-2-3 Hit Wonders Tag Game.
Wash and pat dry whole chicken (best if you don't remove the skin).
Rub with olive oil, garlic and seasonings (measurements are approximate, season to taste!). Try to put seasonings under the skin where possible too.
Spray the inside of the crock pot with vegetable spray (Do not add ANY water or liquid).
Place whole chicken, breast side up in crock pot.
Cover and let cook on high for 3-5 hours, or until legs fall off easily.