Crock Pot Roast With Horseradish Sauce
This is a very easy recipe that originally came from a Southern Living cookbook. The roast came out fork-tender and my husband loved it. Don't forget the horseradish sauce. It's key to the whole dish.
Directions
For the roast: Combine seasonings and rub mixture over roast.
Cover and cook on low for 8-10 hours in a slow cooker.
Remove meat and let it rest for 15 minutes.
Cut diagonally across the grain into thin slices.
Serve with horseradish sauce.
While the roast is cooking, prepare the horseradish sauce by combining all ingredients.
Cover and chill.
Most Helpful
This Roast is amazing. My husband dosent like the traditional Crock pot roast because he says they taste mushy. He loves this one. Horseradish is a definite plus. I did put about 1/4 can of beer, (worried it was to dry) Old habits die hard. Perfect.

This is the first time I've ever cooked beef in the slow cooker, but I'll never cook it another way again because this recipe was utterly divine! The beef literally melts on your tongue, it's just amazing! And that sauce is delicious too!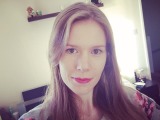 anni - this was fantastic! You were right, the sauce IS key to the whole dish! I turned this into appetizers, serving the beef on crostini with the sauce and garnished with arugala and capers.. pic attached.. thank-you!!