Crock Pot Roast Beef and Horseradish Sauce
lazyme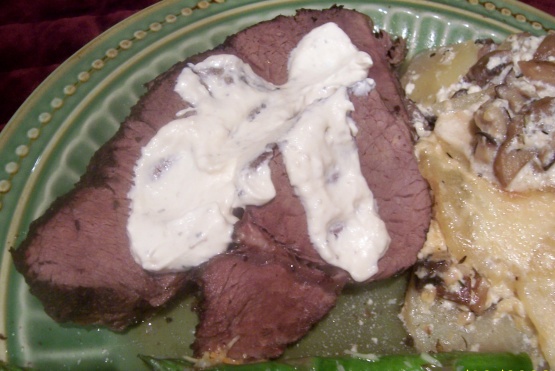 Horseradish plus roast beef make for one of my favorite food combinations. Adapted from Cooking Light's Slow Cooker Cookbook. Leftovers make great sandwiches.

Top Review by Flaca
Great recipe! Thanks for sharing this! I'd never made pot roast before so this was easy for me to "try out" and now it'll be a keeper - my husband loved it. A few things I did - 1) I added a tablespoon of minced garlic and crushed ginger - but that's because we like some spiciness to our meats and 2) I reduced cooking time by an at least an hour but again that's because we like our meats more rare than medium well. But overall this was great!
Rub halves of roast all over with herb rub, then coat them with cooking spray.
Heat a nonstick skillet over medium high heat and brown roast halves on all sides; remove roast halves to a 3 1/2-qt crock pot.
Add broth to the skillet and heat, stirring to scrape up any browned bit sticking to the pan; pour over beef.
Cover crock pot and cook on high setting 1 hour.
Turn to low setting and cook 6-8 hours more.
Remove roasts from pot, let stand 15 minutes, then slice thinly across the grain diagonally.
Spoon pan juices over beef slices.
Pass around Horseradish Sauce to spoon over beef.