Crock Pot Pork Tenderloin With Apples and Sweet Potatoes
Zaney1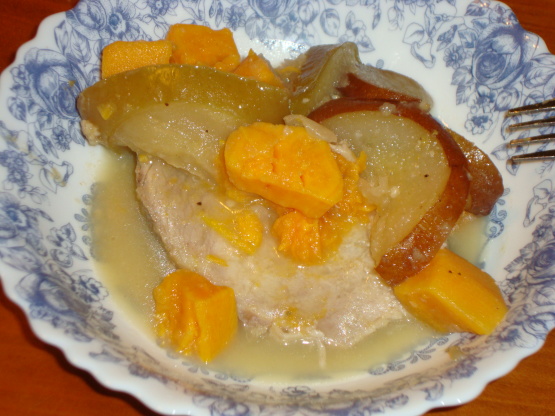 This is easy, and slow cooked. Very tender and great flavor. Apples, nutmeg, rosemary, onions, apple cider, white wine and slow roasted. A great slow cooked easy dish. Try a salad with blue cheese dressing and some fresh rosemary beer bread and you have the perfect fall Sunday Football Meal!! I make this all the times for my pool gang. I play pool 1-2 times per week with 5 guys (the girlfriends too) and I usually cook. This is one of the meals for our Sunday night games. It cooks all day while you do other things. You don't lift a finger other than the last hour when I make my beer bread (1 pan wonder) and make a salad). Please give it a try!

I wanted to like this but I should have known better. Adding the vegetables at the same time as the meat is a HUGE mistake. By the time I served dinner, the apples had turned to applesauce, and the sweet potatoes had turned to mashed potatoes. The veggies were one big goopy mess. The presentation was gross, and resembled pureed meals served at nursing homes to toothless senior citizens. The meat had a great flavor. The tart apples actually infused excellent flavor to the pork. Next time, I will wait and add the veggies 3 hours before serving.
Pork -- In a large saute pan add 1 tablespoon butter, 1 tablespoon olive oil and heat to medium. Season the pork loin well with salt and pepper and sear on medium heat until golden brown on all sides. Just a minute or less per side.
Crock pot -- Add the pork to the crock pot. To the pan with pork drippings add the apple cider and just deglaze the pan and stir/scrape up all the drippings with a spatula. Add immediately to the crock pot.
Add everything else to the crock pot, vegetables, seasoning, butter, apples, pears, wine, onions, sweet potatoes, etc and just cook.
Cook -- 8-10 hours on low or 6-8 hours on high.
Enjoy -- Slice thin and serve. You can thicken the sauce if you want with a little slurry of corn starch and water but I find that the potatoes and pork soak up most of the juices. The onion and apples are sweet and everything is just perfect. Just a small salad.