Crock Pot Pork Tenderloin
tamalita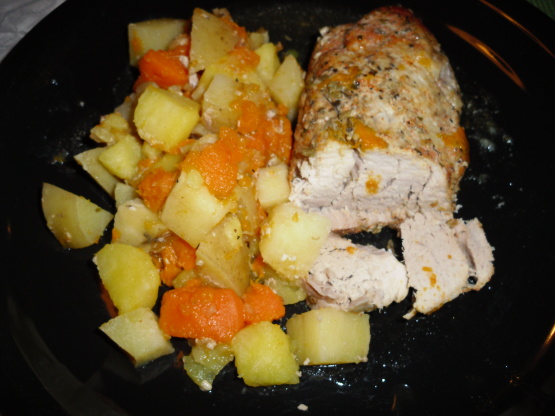 This is a recipe from Pillsbury's Slow Cooker Recipe book that I've altered slightly. The fennel seeds and paprika really give the tenderloin a fantastic taste! Though the Yukon Gold and sweet potatoes go great with the pork, any potato will work.

What a lovely dinner! Yes, the meat was very tender and had a nice flavor to it. I did feel like the pork needed a sprinkle of salt and pepper at the table, though. I used a pound of regular small potatoes and left them whole, and cut a 1 lb sweet potato in large chunks. I will definitely make this again!
1. Place potatoes in slow cooker.
2. In a small bowl combine fennel seeds, oregano, paprika, garlic powder, salt and pepper. Mix well.
3. Rub mixture onto pork tenderloin. Tenderloin might have to be cut in half in order to fit into the slow cooker. (The rub can be applied to the tenderloin the night before and refrigerated to save time and add extra flavor.).
4. Place tenderloin on potatoes.
5. Pour broth over pork and potatoes.
6. Cover; cook on low setting for 8-9 hours.