Crock Pot Pork Stroganoff
Shawn C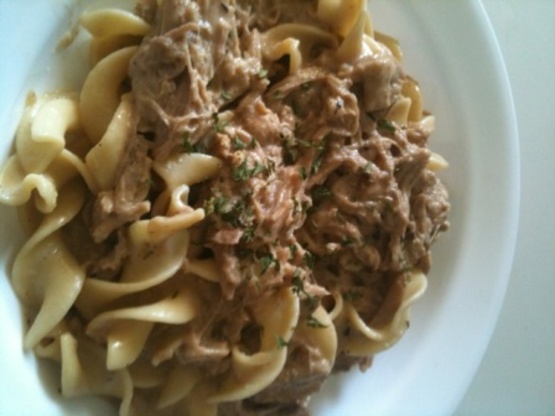 I put in random spices from my kitchen. Probably not all necessary. I used pork since I don't eat beef. Tasted hot and yummy. Note: I like things saltier than most people, so adjust to your taste.

what a great dish! I only made a few changes. i seasoned loin with garlic salt, a little jerk season, and cavandar's seasoning. floured it a little bit then seared in a hot pan with olive oil. I deglazed the pan with a can full of water and added it to the crock pot. I added a dash of cayene to the dish. i used about 3 cloves of garlic. We really loved this and will use it again. we used almost a full container of reduced fat sour cream and regular cream of mushroom soup. i might just put 2 cans of soup next time since I like lots of gravy! Thanks for giving us a great easy meal!
combine all ingredients except noodles and sour cream in crock pot.
6 hours on high.
take out pork & slice, then return to crock pot.
Add sour cream & egg noodles and stir.