Crock Pot Pork Roast with Apples and Sauerkraut
Bergy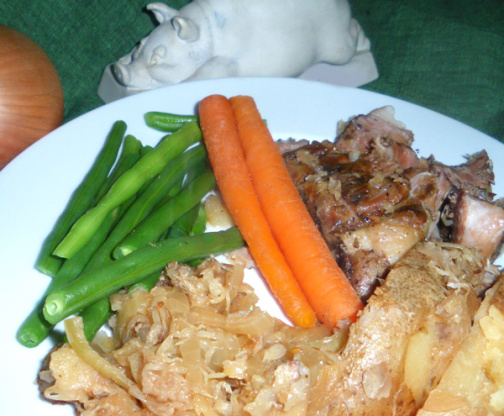 I made this for dinner tonight since it was the first 'real' Fall day we've had in awhile.
I have to say, I thought it was HORRIBLE! The carroway seed took away from the flavor of everything else in the recipe!
I will never make this again!
Layer 1/2 of the sauerkraut, 1/2 of the onion slices, sprinkle 1/2 of the caraway seeds and 1/2 of the apples on the bottom of the crock pot.
Brown (optional) the roast on top of the stove and place on top.
Layer the remaining ingredients (including the juice from sauerkraut).
Wash and pierce potatoes once and arrange around the roast.
Cook on low for 8-10 hours.