Crock Pot Pork Chops and Mushrooms
Bergy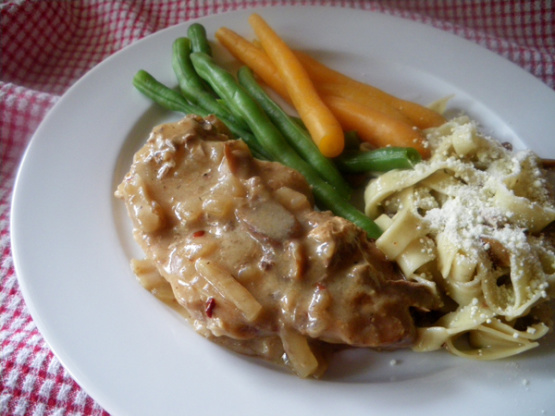 From 101 Things To Do With A Slow Cooker, this is a simple meal and the sauce is good over mashed potatoes.

Loved It! This is how I cooked it -- doubled the cream of mushroom soup, used one large (Very large, that's why only one) onion, Replaced the water with Milk (1%) and used 10 oz of fresh baby bella mushrooms whole. 6 hours on low and half way through I added 4 medium cut up (each into 12-16 pieces) yellow potatoes. I waited only to make sure their owuld be enough "gravy" to cook them and there was plenty. Next time I may simply quarter them and add at the beginning.

My little ones LOVED it! Thanks for posting!
Place meat in greased 3 1/2 to 4 1/2-quart slow cooker.
Top with onions and mushrooms.
In a separate bowl, combine soup mix, water, and soup.
Pour over mushrooms and pork chops.
Cover and cook on low heat 6 to 8 hours.