3 Reviews
We go even simpler with this one, and it's an EASY, QUICK and yummy meal. We put 3-4 thick bone-in chops, and pour the 2 cans of soup (I buy the healthy request version, and lately have been buying one wild rice/chicken and one regular chicken/rice). Very good! The rice spooned over the top of the pork chops is great. You definitely need more rice as a side though, as there's only a few spoonfuls of rice in the soup itself.

I used 4 huge chops. They were VERY tender! I think they could use a little more seasoning, so I gave just 4 stars. I will definately make again, tho!!! Made for Spring 2010 PAC.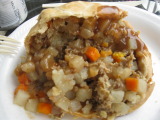 Chops did fall apart, very tender, Served over rice, will make again. Made for Fall 2008 PAC.

Crock Pot Pork Chops