This cooks so long that the pork chops just fall apart. We end up serving it over rice as almost a stew. Quick, easy and delicious!
6 pork chops (can use boneless)
2 (6 ounce) cans chicken and rice soup (condensed)
1⁄2 small onion, sliced
2 stalks celery
1 teaspoon pepper
Directions
Trim fat from pork chops, coat in flour (I season with salt and pepper) and brown pork
Layer pork chops in crock pot.
Cover with sliced onions and celery.
Pour soup over.
Cook on low 5-6 hours.
Can serve pork chops separately, but they are usually so tender that they fall apart into large pieces. We cook additional rice and serve the chops and sauce over it. Is a great combination between a stew, soup and meat!
Reviews
Most Helpful
We go even simpler with this one, and it's an EASY, QUICK and yummy meal. We put 3-4 thick bone-in chops, and pour the 2 cans of soup (I buy the healthy request version, and lately have been buying one wild rice/chicken and one regular chicken/rice). Very good! The rice spooned over the top of the pork chops is great. You definitely need more rice as a side though, as there's only a few spoonfuls of rice in the soup itself.

I used 4 huge chops. They were VERY tender! I think they could use a little more seasoning, so I gave just 4 stars. I will definately make again, tho!!! Made for Spring 2010 PAC.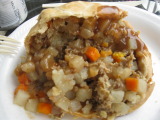 Chops did fall apart, very tender, Served over rice, will make again. Made for Fall 2008 PAC.