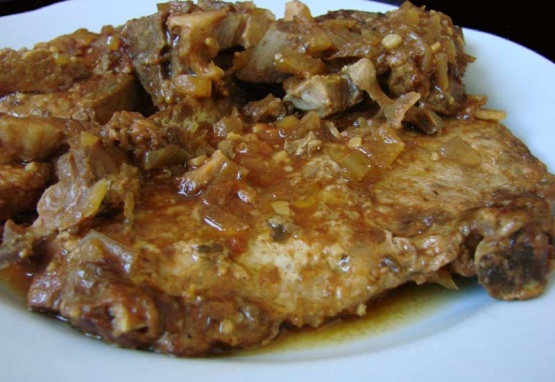 An easy recipe that produces tender pork chops with a wonderful gravy, I used a 3/4-inch thick center cut pork chops and browned them first, you may increase the amount of pork chops and double the sauce recipe, this can also be made in the oven for a shorter time :)
Very good recipe! I used 8 boneless pork chops and made 1 1/2 times the sauce ingredients. Cooked for 7 hours on low and they were very tender. One hour before they were done, I added some water with cornstarch to thicken up the sauce. Served with mashed potatoes and green beans. Yum!
Directions
Place the pork chops in the crock pot.
Sprinkle with onions and garlic over and around the chops.
In a bowl mix together all remaining ingredients except the salt; pour over the chops.
Cook on low setting for about 7 hours or until the pork chops are cooked through and tender (cooking time will vary slightly depending on the size of your pork chops).
Season with salt to taste if desired.
Serve over rice.