teresas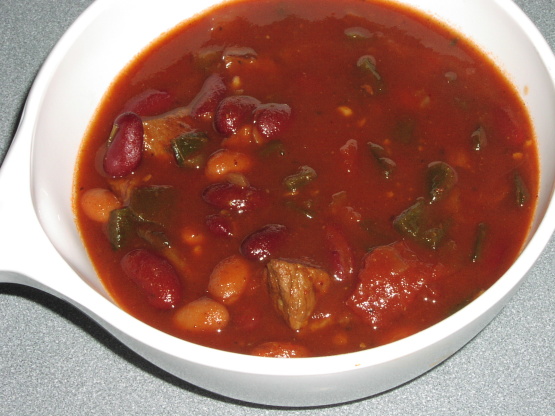 A simple mish mash of different things make a pretty darn good and hearty chili. Hot, but not too hot.

I had a few poblano chilies to use up and found this recipe. So glad I did. I only used 2 15 oz cans of tomato sauce because it was looking pretty soupy. Also the direction say to saute' the onion and garlic, but the garlic is not listed. Not sure if it was to include the chilies?? So I threw in 2 garlic cloves, minced and the chilies and sauted everything together. We like things hot so added the cayenne pepper, some salt and black pepper and dinner was ready. Very tasty chili. Thanks for posting.
Saute the onion and garlic in the olive oil until softened.
Place all ingredients in crock pot, and cook on low for 8-10 hours or until stew meat is fall apart tender.
If you like, you can serve it with diced onions, cheese, or sour cream.