Crock Pot Pasta With Eggplant Sauce
PaulaG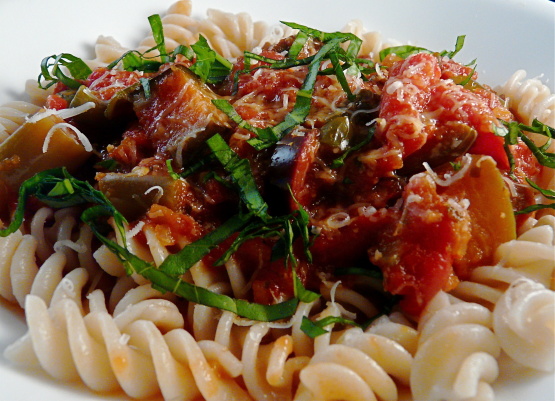 Chunks of eggplant cook in a slow cooked spaghetti sauce offering a low calorie alternative to ground beef or sausage. From Better Homes and Gardens. French and Italian!

Wonderful easy crockpot recipe! I followed this recipe as stated but added extra minced garlic, crushed red peppers, garlic powder and italian seasoning when mixing it. I forgot the parsley at the end and served this over whole wheat rotini. 6 and 8 year old loved as did my husband and I. Will definitely make again! Love eggplant dishes - especially when they're easy and done in a crockpot! Thank you!
Peel eggplant, if desired; cut eggplant into 1-inch cubes.
In a 3 to 5 quart crock pot combine eggplant, onion, green pepper, undrained tomatoes, tomato paste, mushrooms, garlic, sugar (if using), wine, water, and oregano.
Cover and cook on low-heat setting for 7 to 8 hours or on high-heat setting for 3 1/2 to 4 hours.
Stir in olives and parsley.
Season to taste with salt and pepper.
Serve over pasta with Parmesan cheese.
Garnish with toasted pine nuts.
Makes 6 servings.
Enjoy!
Note: Sometimes I will throw in grated carrots, zucchini, and other fresh vegs.
In a hurry?.
Use canned spaghetti sauce!
(Leave out the tomatoes, tomato paste.) Just add the wine, herbs, olives, etc.
Enjoy!