Crock Pot Oriental Chicken Thighs
Janni402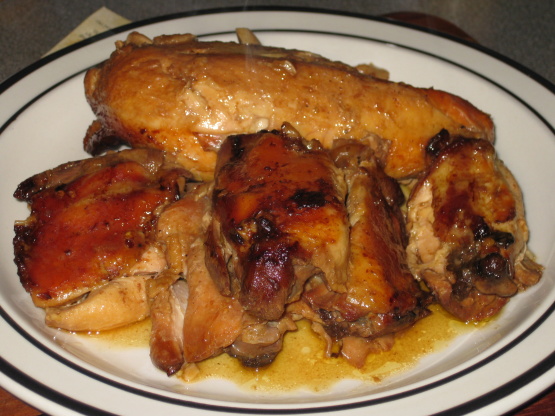 These have a great flavor! I have adapted this recipe to make in the crock pot, one of my favorite kitchen appliances :) They're easy and yummy served over rice and topped with sliced green onions. You may want to double the sauce ingredients if you like a lot of sauce. Also, you could easily cook over the stove if you want to throw it together quickly. I like to serve it with stir fry vegetables.

Top Review by HeathJ
This was AWESOME! I did double the sauce, being a saucy person - and I added onions and sweet red peppers. I also probably quadrupled or more the red pepper, b/c we like a little spicy. I also omitted the warm water - just didn't seem necessary. Then, at the last minute, I decided to throw in some peanut butter... I added maybe 2+Tbls (for a doubled batch of sauce) - granted, I could have looked up a peanut sauce, but it was a very last minute call that just sounded so good. It was Soooo Yummy!! This, w/ the pb in it, will be an often made dish in our house. My DH completely loved it. I made it w/ noodles, instead of rice, and mixed in through the noodles. I just used multigrain thin spaghetti, b/c that's what I had. It was great! Stir fried some pea pods w/ it - perfection! Great recipe - thank you!!
Stack chicken thighs in crock pot sprayed with nonstick cooking spray.
Combine olive oil, water, brown sugar, orange juice, ketchup, vinegar, garlic, red pepper, and five spice powder; pour over chicken thighs.
Cover and cook on low 5-6 hours.
Combine cornstarch and water; add to crock pot and stir.
Cook on high 30 minutes or until thickened.
Serve over rice and top with green onions.