Crock Pot Orange Honey Chicken
MollyLin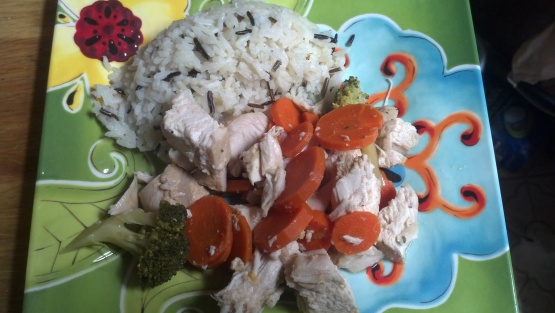 Submitted in response to request.

This is great! The chicken turned out juicy and tender, what a nice surprise as I always overcook chicken in the crockpot! The veggies were still crisp, and so all of the textures wre just right. And, to make it better, it couldn't be any easier to prepare. Only 4 WW points (without rice). I'll make this often for a healthy take to work lunch. Thanks meow!
Place frozen breasts in crock pot.
Mix juice, broth, honey, dry mustard and teryiaki sauce.
Pour over chicken in crock.
Cook on low for four hours.
Add vegetables about one hour before serving.
Place on TOP of chicken and do not stir.
Cook the additional hour and serve over rice.
(note: if you're not using frozen chicken subtract about an hour from cooking time!).