After not finding anything in terms of crock pot orange chicken on Zaar, I found this recipe at About.com, then made a couple of changes to suit my family's appetite and tastes. This produces a very strong, tangy sauce, which may be to some people's tastes and not quite to others. Give it a whirl and see if it's for you!
Directions
Cut chicken breasts into bite-size pieces. Place in the slow cooker.
Sprinkle flour over chicken and toss well to coat.
In a medium bowl, whisk together remaining ingredients. Pour over chicken. Cook on high 4 hours or low 6-8 hours.
Serve with rice.
Reviews
Most Helpful
Thanks for sharing this tasty recipe! I've been looking for a sweet & sour or orange chicken crock pot recipe for quite awhile and was delighted to find this one. I did have to make a couple of changes, due to my own lack of planning. First, I forgot to thaw the chicken breasts, so I was not able to cut up the meat into pieces. I shook the frozen breasts with the flour, and it worked all right. Next, I didn't have any yellow mustard, so I used dijon (which worked fine). Otherwise, I followed the recipe as written. My husband and I both loved the flavor, which is very orangey. I served this with brown rice and whole green beans. Wonderful! Thanks again for sharing!
Now this dish is right up my alley. This chicken is outstanding! I absolutely love the flavors in this. I did use the rice vinegar and the grated fresh ginger but omitted the scallions. I did add a sprinkle of crushed red pepper on my serving. It's a HIT! Made for Spring PAC 09.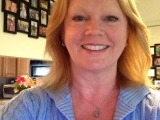 Unfortunately, did not like this one. If I were to make again, I would cook more on the side of 6 rather than 8 hours next time. Although i can slightly taste a hint of orange, the mustard flavor quickly over powers it.