Crock Pot No-Fuss Potato Soup
Parsley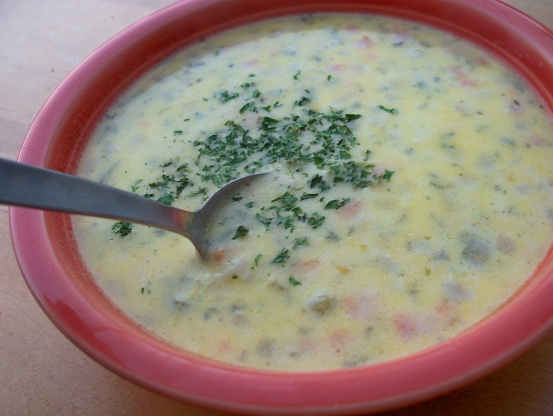 I made this last night. Found the recipe in my Fix It & Forget It cookbook. Everyone loved it. Sooo Easy and so good. My husband loved it so much he took leftovers to work. He is not a soup eater. That says a lot. Any potato will work. I used red potato's.

Here's my personal take on the recipe: I chopped one medium onion into small pieces and caramelized them before adding to the crock pot, also adding crushed garlic to the pan for a few minutes. I omitted the celery and used vegetable bouillon, instead of chicken. I diced the potatoes on the smaller side and used Yukon golds. I added heavy whipping cream, instead of evaporated milk, and 2 tbl. of cornstarch for a creamier consistency. I added three slices of pepper jack cheese along with the cheddar cheese. Next time I'm making it the same way as above, but adding corn for extra taste and texture. The original recipe is more of a chowder type dish, but could easily be blended for a more soupier texture to please everyone. I served my take on the soup with a square of Mexican-style cornbread and butter. Fantastic!
Combine all ingredients except milk, parsley, and cheese in slow cooker.
Cover. Cook on high 7-8 hours, or until vegetables are tender.
Stir in milk and parsley.
Stir in cheese until it melts.
Heat thoroughly.