Meekocu2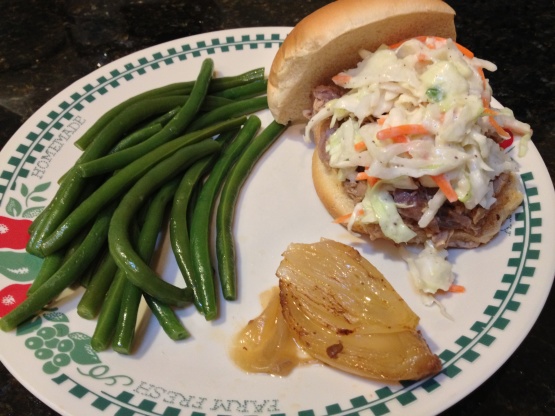 NC Pulled Pork, vinegar based. savour-fare.com/2009/03/19/carolina-barbecue-pulled-pork

For the past 20 years, Smithfield's BBQ has been my favorite. I worked at the Wilmington, NC location as a teen, and since then, no other BBQ has come close. That is, until I made this recipe. Smithfield's will be first in my heart for nostalgic reasons, but now I can make a pulled pork at home that makes me just as happy. Thank you for posting this recipe!
Place onions in crock pot. Blend brown sugar, paprika, salt and pepper; rub over roast. Place roast in crock pot.
Combine vinegar, Worcestershire sauce, red pepper flakes, sugar, mustard, garlic salt and cayenne pepper and stir to mix well. Drizzle about 1/3 of mixture over roast. Cover and refrigerate remaining mixture. Cook roast on low for 8-10 hours. Remove meat and onions, discard onions and shred meat. Add juices from crock pot and remaining vinegar mixture (a portion may be reserved to pass). Serve plain or as sandwiches.
**4 hours on high.