Bergy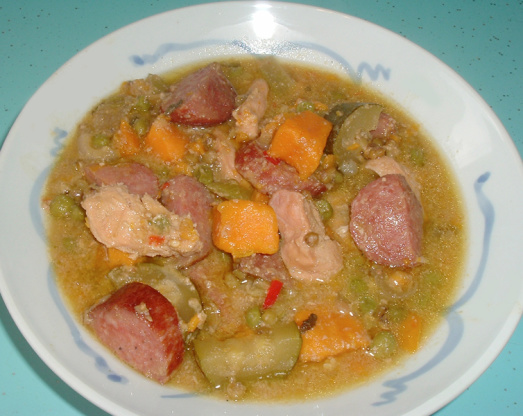 No there is no Okra in this gumbo but I don't think you'll miss it. If you wish hold off putting in the Zucchini & peas until the last hour or so. Serve with White or Brown rice - the brown went well with it. I hope you enjoy the recipe. The hardest part of this recipe is stirring the roux

This tasty Gumbo made me feel like I was sitting in a café in New Orleans, listening to Jazz music and watching all the tourists walking along the street. Yesterday, I was in a virtual café eating tasty Greek Island Latkes and with a dill sauce (another RSC #5 recipe). Today, I was in another virtual café eating a tasty Louisiana Gumbo with chicken, sausage and Creole spices. Out of approximately 100+ recipes in the RSC #5 contest I had chosen two to review and this was one of them. Since I am not into sweet yams or peas, I substituted a can of black eye peas and "Yes" frozen okra which I like. I also, added some extra Creole spices to give this gumbo a real kick and made some brown rice to go along. Further, I would suggest using 1 1/2 -2 cups of chicken broth (instead of 3 cups) and at the end use some tapioca/cornstarch or flour in a little water to thicken the gumbo (my crock pot tends to produce to much liquid and I had to dump some prior to adding a thickener). Also, adding the zucchini, okra and peas at the very end of cooking is a good point. Finally, even though I did modify this recipe to my tastes and since I had never made a gumbo before, it was a real treat!
1⁄2 cup mung beans, soaked over night
1⁄3 cup white flour
1⁄3 cup vegetable oil

1

tablespoon fresh sage, finely chopped

4

cloves garlic, chopped

1

chili peppers, chopped or 1 teaspoon chili flakes (optional)

3

cups chicken stock or 3 cups broth

3

chicken breast halves, cooked & cut to bite size pieces

1

lb smoked sausage (I used Kielbassa but any well smoked sauge is good or a large ham hock)

2

stalks celery, chopped
1⁄2 cup onion, chopped
3⁄4 cup sweet peppers, mixed or 3⁄4 cup all green pepper, chopped
1 1⁄2 cups zucchini, peel on,cut in bite size chunks
3⁄4 cup frozen peas
1 1⁄2 cups yams, peeled cut in bite size chunkd
Soak your Mung beans overnight in 2 1/2 cups of water, rinse the beans twice before adding to the Gumbo.
Heat the oil in a heavy skillet and stir in the flour, stirring constantly over medium heat until the roux is a dark reddish brown.
Don't let it burn, be patient and keep stirring may take 10 minutes.
When the roux has that rich brown color stir in the chicken stock, use a whip and keep stirring until you have a nice textured sauce.
Add the Sage, garlic,& chili.
Pour the sauce into your crock Pot.
Add all the remaining ingredients including the uncooked, well rinsed mung beans, stir to mix the ingredients well.
Turn the crockpot to low, cover with the lid and 6 hours later it is ready.
Serve with white or Brown rice.