Crock Pot Moroccan Lamb Chops and Prunes
ImPat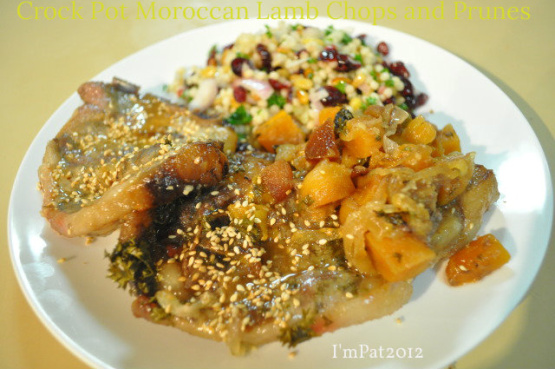 This is from Lou Seibert Pappas' cookbook, Extra-Special Crockery Pot Recipes, "Time saving meals for the gourmet appetite", I have to add that tagline since this recipe fits and does not disappoint! This is delicious. Cooking the lamb chops in spare liquid on low is as close to braising in a crockpot as I've seen. Pappas says of this recipe, "Fresh cilantro and ginger root are essential to the authenticity of this aromatic North African entree." I served it with a wonderful Silver Palate Moroccan Pilaf.
In large frying pan, saute onion in olive oil until limp. Push to sides of pan.
In same pan, brown chops well on both sides. Season with salt and pepper.
Add ginger, cumin, garlic and cinnamon. Saute 1 minute. Transfer to crock pot.
Deglaze pan with 2 tablespoons water (i.e., on high heat, add 2 tablespoons water and stir until most of the flavor-packed brown bits are dislodged). Add to pot.
Scatter cilantro and prunes over lamb chops. Cover.
Cook on low (200 degrees F) for 6 hours.
Stir in honey and lime juice. Heat to serving temperature.
Sprinkle with sesame seeds.