Crock Pot Mongolian Style Beef
Linda H.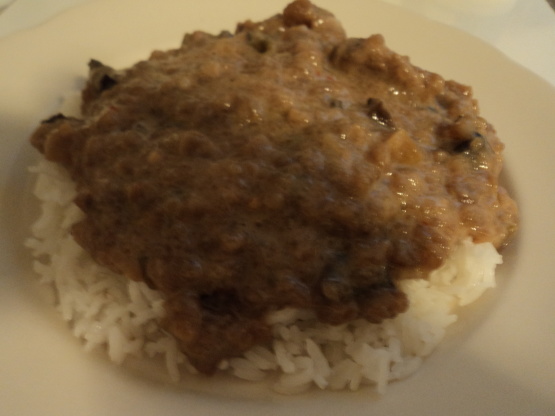 The hubby requested Mongolian Beef and I'm a big fan of crock pot cooking, so here is the result of my trying to combine the two. Although there's no way to get the slightly crispy texture of real Mongolian Beef from a slow-cooker recipe, this *tastes* like it and the meat comes out nice and tender, with a very flavorful and tasty sauce! This is my recipe #3 from the Pantry Challenge: I am making a dish from whatever I have at home already - those ingredients which are "just waiting around."

Fantastic! Mongolian Beef is one of dh's favorite dishes. I cut way down on the sugar, only used one tablespoon, and used vermouth instead of the fruity wine. After using my crockpot for over 30 years, this is one of the best dinners I have ever cooked in a crockpot!
Slice the flank steak thinly across the grain - the strips should be 2 to 3 inches long each; set aside.
Combine the onion, soy sauce, sherry, broth, garlic, hoisin, brown sugar, ginger, and pepper flakes, then put the mixture into the crock pot.
Put the cornstarch in a large Ziploc bag; add the sliced beef and toss well to coat.
Add the coated beef into the crock pot, gently pushing it into the liquid to cover; pour the white wine over - do NOT stir.
Cook on low for 4 to 5 hours; an hour before you're going to serve, turn the crock pot to high, add the cut scallions, stir, and cook for an additional hour.
Stir, and serve over rice or noodles.
Note: if I wasn't doing a challenge (ie I can't go to the store to buy things I'm out of) there are things I'd do differently; although I searched high and low in the freezer for some ginger root, it seems to have disappeared - so I used ground -- next time it'll be fresh. Also, if you don't like your Mongolian Beef slightly sweet as the restaurants around here serve it, you can cut back on the brown sugar.