Crock Pot Minestrone Hamburger Soup
Boomette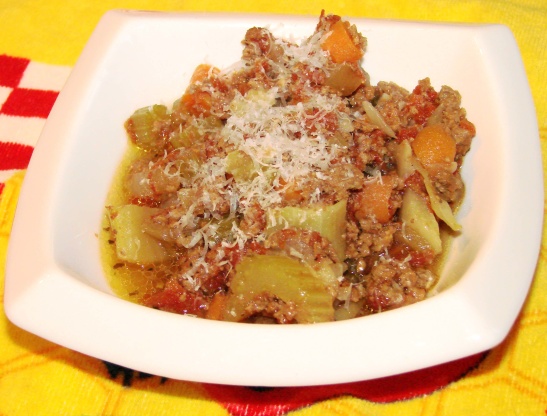 This is another very simple recipe from Best-Loved Slow Cooker Recipes.

I made this recipe on 10/29/10 for our dinner, and for the " Crockpot/Rice Cooker Event" over in KK's Forum.Even before reading Lauralie41's review I had decided to make a few changes to the recipe anyway. Here are the changes,while the ground beef was browning a bit of seasoned salt,and garlic powder were added.After prepping,I just threw the veggies in the crockpot then topped with the cooked beef. Then instead of using the 28 oz can of tomatoes, I used two 14.5 oz. cans of fire roasted diced tomatoes w/ garlic already in them. Then the seasoning were added and stirred well. This recipe was cooked on low for 8 hours exactly and turned out just fine.No mushy potatoes or carrots, and the cabbage just had a perfect texture. I used a Mozzarella/Romano blend and it worked out just great. And since it was an Italian type soup, I topped my serving with a few garlic/ cheese croutons. All I can say is YUM!!!. Thanks for posting and, " Keep Smiling :) "
Place all the ingredients except the cheese in your crock pot, stir thoroughly, all enough water to cover all ingredients, cover and cook on Low 8 to 12 hours or on High 3 to 5 hours.
Stir well and serve sprinkled with cheese.