Crock Pot Menudo With Beef
Chesonis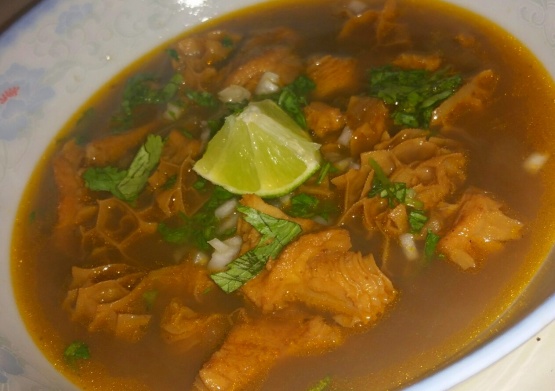 I love menudo but I don't care for pig's feet so I have used the following recipe for quite a few years. Easiest method is to use a package of "Menudo Mix" which can be found in the hispanic aisle of most grocery stores. In case you rather use the individual spices, I am including those starting with oregano. This recipe can also be cooked on the stove top by simmering on low for 5-6 hours.
I find this recipe incorrect for where are the secret instructions for washing the tripe? The secret is baking soda. Also, isn't the tripe supposed to be cooked before adding the additional ingredients? There are no instructions for skimming the top of the boiling pot of tripe.
1

lb of honeycomb tripe, rinsed and cut into 1-inch squares

1

lb beef stew meat

1

(15 ounce) can hominy, drained

1

tablespoon red chili powder (more or less according to taste, not part of menudo spice mix)

1

tablespoon oregano

1

tablespoon onion flakes
1⁄2 tablespoon coriander seed
1⁄2 tablespoon cumin
1⁄2 tablespoon crushed red chili pepper

8 -10

cups water or 8 -10 cups beef stock
Add tripe, stew meat, hominy, spices together in crock pot.
Cover with water or beef stock.
Cook on low setting for 6-8 hours.