Crock Pot Meatballs & Penne in Red Sauce
cbw8915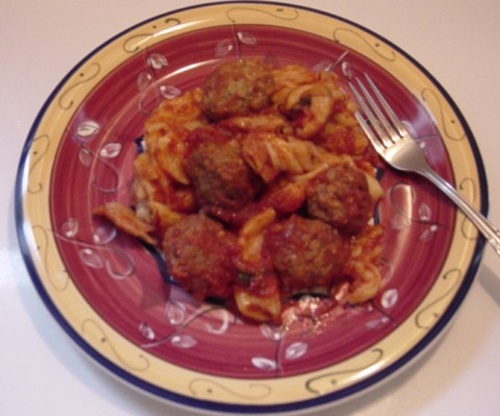 I adopted this recipe from the Recipezaar account as I am always on the look out for make ahead recipe and this one would be a great one for my "what to make with frozen meatballs" cookbook". This is the original introduction This is an adaption of Red Penne with Garden Veggie Meatballs Red Penne with Garden Veggie Meatballs by --Kari*left*Denver--. I had it on the menu to make, but put it off and some of my ingredients went bad before I got the chance to make it, so, here's the version I came up with instead. I like to make up several batches of the cooked meatballs in the freezer to pull out for an easy meal." Thanks cbw

This was a nice meal and it was great to put it all in and then forget about it. I wasn't thrilled with the texture of the pasta...it was a little gummy, but overall the dish was very tasty (in fact, two people in the family said they liked the pasta this way because it reminded them of "catered" ziti!). I will confess I used my own meatball recipe, but followed the sauce recipe exact except that I added some salt. It only took 2 hours in my crockpot on low! It's a Rival 4.5 quart and everything fit just to the top, so I don't know why it got done so early. I took it out and put it in a casserole dish with a lid and then warmed it at dinner time. Thanks for sharing...I knew I would be busy today and it was nice to know dinner was already done.
For Meatballs-Mix all meatball ingredients together, make into tsp size balls, and place on cookie sheet.
Bake at 350F for 25 minutes or until cooked and drain.
Put all sauce ingredients and meatballs in the crock pot and mix together.
Cook on low for 4-5 hours or until noodles are tender.
Enjoy!