Crock Pot Mashed Red Potatoes
CoffeeB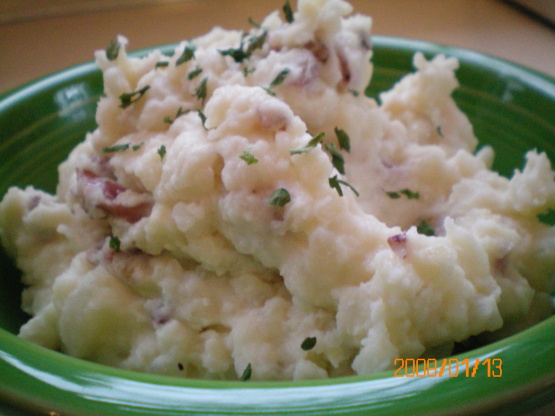 This is a delicious and simple recipe. The potatoes require 15 minutes pre-cooking on your cook top and only take 2-3 hours in your crock pot. I found this on AllRecipes.

These were great! I prepared steps 1 & 2 the night before and then turned the crock pot on the next afternoon for a couple of hours before dinner. Since they sat over night the flavors really set in and they were AWESOME! My modifications: I doubled the garlic (used half in the boiling process and added the second half during mashing) and eliminated the bouillon to dodge the sodium... I will definitely keep this as my standard mashed potato recipe for future meals.
5

lbs red potatoes, cut into chunks

1

tablespoon garlic, minced (to taste)

1

(8 ounce) container sour cream

1

(8 ounce) package cream cheese, softened
1⁄2 cup butter
salt and pepper
In a large pot of lightly salted boiling water, cook the potatoes, garlic, and bouillon until potatoes are tender but firm, about 15 minutes. Drain, reserving water.
In a bowl, mash potatoes with sour cream and cream cheese, adding reserved water as needed to attain desired consistency.
Transfer the potato mixture to a slow cooker, cover, and cook on Low for 2 to 3 hours.
Just before serving, stir in butter and season with salt and pepper to taste.