Crock Pot Marinara Sauce (Vegetarian and Fat-Free)
Parsley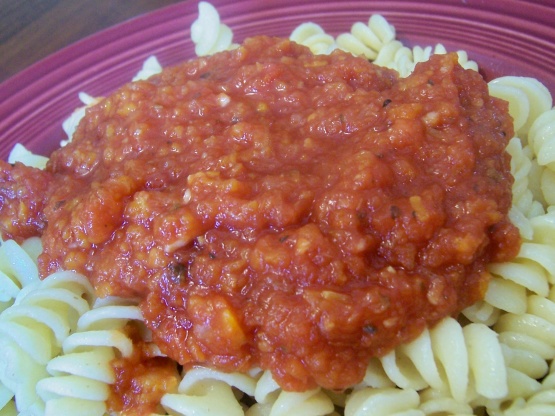 If possible sauté the onions and garlic in about 3 tablespoons oil in a small skillet before adding to the crock pot, if not then just omit the oil, which will make this marinara sauce pretty much fat-free! You will need a minimum of 4-quart crockpot for this recipe. The longer you cook this sauce on low heat the thicker and richer it will be! but it can also be cooked on high-heat setting for about 5 hours if you want a quicker sauce, I strongly suggest to cook it for a longer time! If desired you can double the recipe, this sauce freezes very well!

This turned out to be a very good sauce. I cooked it for 5 hours in my crockpot on high, then used a stick blender to puree into a smooth sauce. I then cooked it for another hour on high without the lid on the pot. I did not use the pepper as I did not have one. I also used fresh tomatoes that needed to be used up and a small can of tomato sauce to equal the 28 oz amount needed. The result was a full bodied marinara sauce. As it is only DH and myself these days, I placed the sauce in 1-1/4 cup, small freezer bags for easy convience. Thanks Kitten, we shall enjoy this one!! P.S. I did add another 14 oz can of crushed tomatoes to the sauce; as is, the sauce would have been a little intense without it!!
Place ALL ingredients in a minimum 4-quart crock pot/slow-cooker; mix well cover and cook on low heat for about 8-10 hours.
Uncover and cook on high heat for the last 1-1/2 hours.
Season with more salt and pepper to taste.
Delicious!