Crock Pot Lemon Tarragon Chicken
Pneuma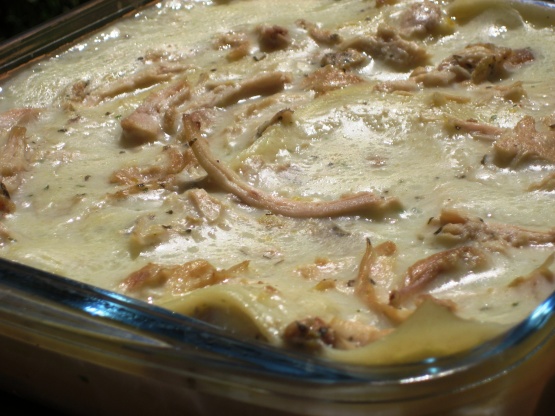 I really love a good roasted chicken seasoned with tarragon and chicken. So when I had a hanker for just such a dish but didn't want to heat up the oven and only had chicken breasts on hand this is what I came up with. This is so easy and so yummy. The whole family loved it!

Top Review by Pneuma
Wow, I'm full! I just finished eating 2 big servings of your Recipe #258821. I used homemade cream of chicken soup with this so thickness varies with the amount of tbsp of cornstarch in water added to the soup. Lasagna was my pasta of choice as I had to make use of this first before I open the others then baked it for 3 mins just to heat the top a bit. But to be true to this recipe, I sliced a leftover lasagna into fettuccine strips, "tossed" it with leftover soup mix and ate it as is. DH gave me this guilty look as he went for another serving too! Thanks for letting us try this, Cuistot!
Put chicken in crockpot and add garlic, tarragon and white wine.
Mince lemon rind and add to crock pot.
Cook on low 5-6 hrs or high 2-3 depending on the thickness of your breasts.
shred the chicken.
microwave the cream cheese until it's soften.
add cream cheese to soup mix well add to shredded chicken in crock pot.
Cook pasta to desired doneness and toss with sauce.