-Sylvie-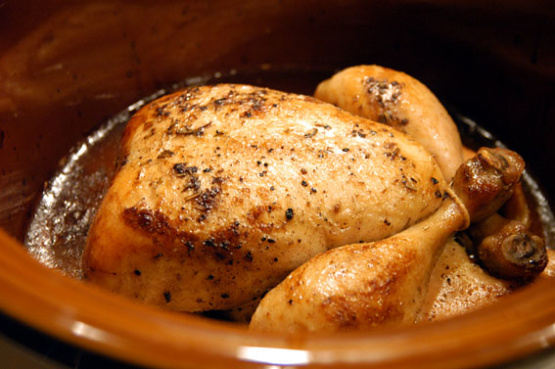 OK, this is not a chicken you just dump into a crock pot with seasoning and expect to have a gourmet meal after 8 hours - this crock pot chicken is a labor of love and requires just a little bit of time. Believe me, you will be glad you took it.

I did not brown the chicken. Just dump everything into the crockpot. But it is still delicious.
Wash chicken; pat dry; season chicken generously with salt and pepper; sprinkle half of oregano, rosemary and garlic inside cavity of chicken; melt butter in frying pan and brown chicken; transfer to slow cooker or crock pot; sprinkle with remaining oregano, rosemary and garlic; add sherry to frying pan and stir to loosen brown bits; pour into slow cooker.
Cover, cook on LOW (200 degrees) for 7 hours; add lemon juice and cook 1 more hour (total of 8); transfer chicken to cutting board; skim fat from juices and serve over chicken.